A good dancer with uncomfortable shoes can become a bad dancer. It is best to have a wardrobe with properly selected shoes that fit the occasion. Shoes, such as ballet flats and even gym shoes, are designed to give your feet protection and freedom of movement. Therefore, you must choose the correct pair of shoes if you want to realize your potential when learning to dance.
If you are, taking dancing seriously, you should consider buying a pair of dance shoes best for you. Here is a list of things to consider before spending your money:
Flexibility. One of the main assets of the dance shoe is flexibility. A stiff pair of shoes is only going to restrict your movement and lower your performance. And this is especially true for Caribbean and ballroom dancing.
Train without heels. Yes, a high heel can be impressive, but you will only be making things harder for yourself. It is best to train without a heel for the most part and keep the impressive heels for the performance.
When trying on your new shoes for the first time, there should be no discomfort. If you start to feel rubbing, tingling, and pressure, these will only get worse when you are dancing. Take the time when trying a pair to be sure, they feel comfortable and are suitable for your style of dance.
Check the width of the ankle strap to make sure it is at least eight millimeters. Otherwise, the strap will dig into your leg.
A closed model. If you are only starting, choose a closed shoe, not an open toe or heel. Yes, an open toe or heel can look much nicer, but they can be unsafe for amateur dancers. You can then move onto the open toe as your experience grows.
Black and flesh coloured shoes. We all have our preferences, and the color of our dance shoes is no different. Flesh-colored shoes can make the legs look longer, while black shoes are often more versatile and are worn, in many scenarios.
What pair of dance shoes are best?
Each dance style has a specific shoe. You would not want to be performing a waltz with a pair of pointe shoes on, would you? Which leaves you only one question to answer. What pair of dance shoes are best for me to buy?
I am happy you are reading this post, and I hope you find it useful, but the best thing to do is ask your dance teacher to recommend a pair of shoes. He/she will have an abundance of experience, having trained beginners in the past. Hopefully, this would fast track your experience and save you the hassle of trying on tens of pairs before deciding.
HOW MANY TYPES OF DANCE SHOES ARE THERE?
3 Types Of Dance Shoe – Ballet, Tap, and Jazz
Although there are many dance styles to choose from, there are typically only three different types of dance shoes to choose between, and all of which have their specific uses for one or multiple styles. The most known are ballet shoes.
BALLET SHOES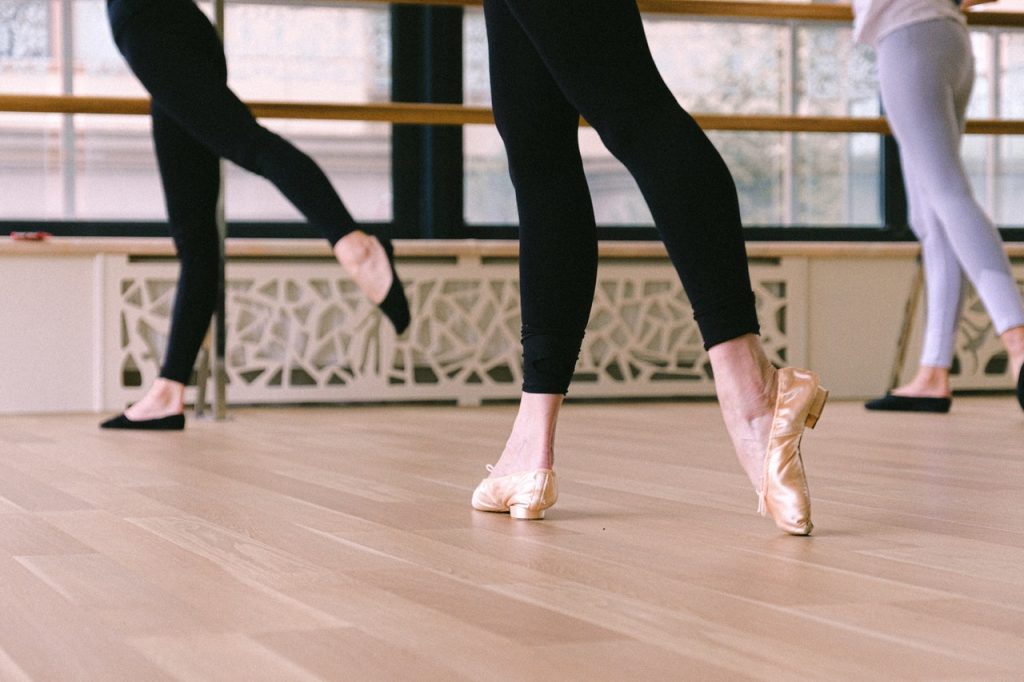 As you would expect, ballet dancers wear ballet shoes. But there are variations of ballet shoes that are suitable in different situations., and differ slightly from one another.
You wear ballet shoes and pointe shoes while performing, while you wear ballet slippers during practice and rehearsals.
­Pointe Shoes Are Mostly Worn By Female Dancers
The pointe shoe is generally worn by the female dancers, although, on occasion, male dancers need to perform unconventional roles or a woman's role, which will require the use of pointe shoes.
THE DIFFERENCE BETWEEN POINTE AND BALLET SHOES?
Box And Shank
The pointe shoe comes with two features not found on standard ballet shoes. These features are called the box and shank.
Shank – A rigid object that helps to support and stiffen the sole, mainly when the foot is arched while pointed.
Box – Usually made with compact layers of paper and cloth glued together, then flattened to create a platform, at the toe.
Pointe work requires added support for the toes, so the front of pointe shoes comes squared. And this is called the box.
The box is made using compact layers of paper and cloth. These layers of paper/cloth are glued together and then flattened to create a platform. Modern versions can also be manufactured using rubber and plastic. The plastic is the part that provides the stiff platform for the dancer to balance on.
These two features are incorporated in all pointe shoes, although different pairs will cater to different shapes of feet.
Main Feature Of Ballet Shoes
The main feature of ballet shoes is how light they are. Ballet dancing requires perfect balance, so the dancers need to wear the lightest footwear possible.
Ballet shoes and slippers are both lightweight and soft. They are made using either canvas, soft leather, or satin and come with a thin leather sole that does not extend the full length to the tip. Many modern versions come with a split sole for added flexibility, which accentuates the contour of the foot when doing ballet.
These lightweight materials ensure the shoe/slipper provides maximum flexibility and fits neatly onto the foot.
Best Ballet Shoes For Beginners:
Our favourite ballet shoe for beginners is the Capezio Kids Juliet Ballet Shoe. A lovely, elegant ballet shoe that fits nicely and is perfect for dance class.
Click here to check them out on Amazon
JAZZ SHOES – Popular Type Of Dance Shoe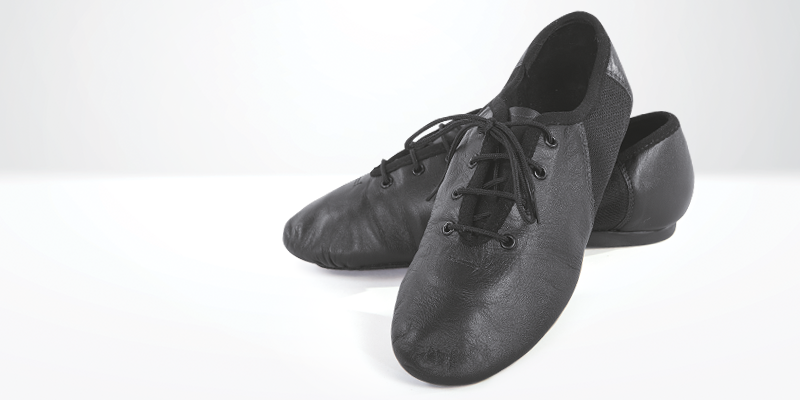 Jazz shoes are a popular type of dance shoe worn for many different dance styles such as line dancing, lyrical dancing, pole dancing. They are also commonly worn as practice shoes for Latin and ballroom dancing.
Jazz shoes are not limited to the dance styles above. And can be worn for most forms of dance, including aerobic dance and hip hop. Jazz shoes come in two styles called low rise and high rise. Both styles come as either slip and lace-ups.
Jazz shoes are mainly made out of leather and come with thick rubber soles for shock absorption. Full sole jazz shoes have a full-length rubber sole that runs the length of the shoe. The split sole has two separate pieces of rubber – one under the ball of the foot, the other under the heel.
The full sole helps build strength in the foot, while a split sole allows for more flexibility allowing the dancer to arch, line, and do pointe. The standard colour these come in is black and nude.
Best Jazz Shoes For Beginners:
One of our favourite jazz shoes, perfect for beginners, is the Dynadans Leather Upper Slip-On Jazz Shoes.
Finding a well-fitting pair of jazz shoes can be difficult for beginners. But the Dynadans Leather Upper Slip-On Jazz Shoes come with many good reviews commending how well they fit and how comfortable they are.
You can check them on Amazon by clicking here!
TAP DANCING SHOES – Many Shapes And Styles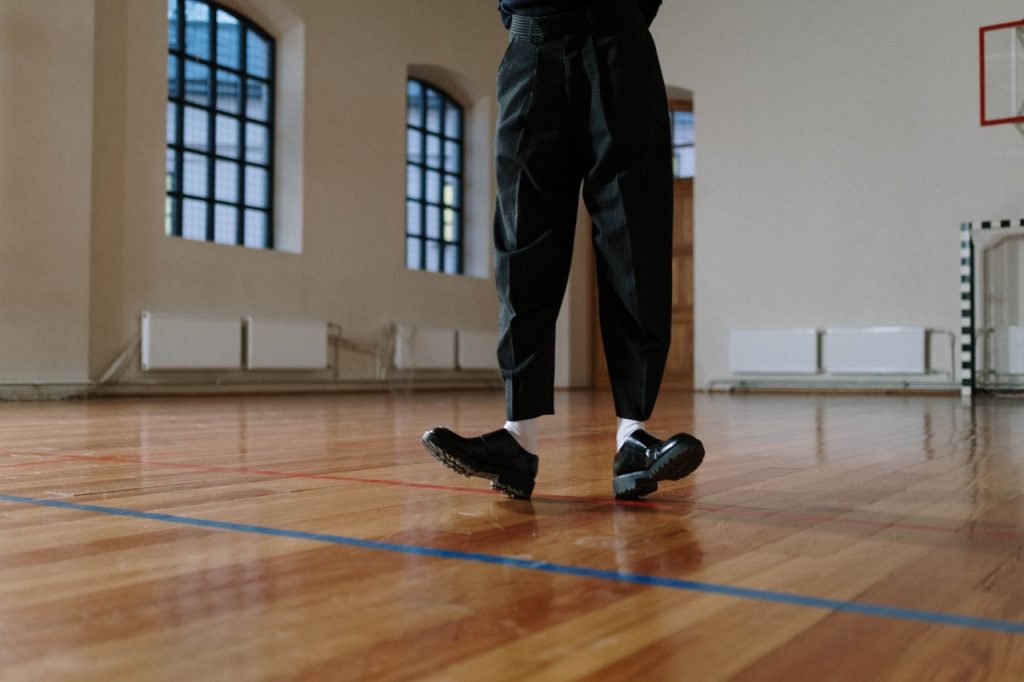 Tap shoes come in many different shapes and styles and made using leather, canvas, and even wood or plastic. Often, the skill level of a dancer will determine the material of the dance shoe.
Mary Jane style tap shoes are typically used by beginners, as they provide more balance and support.
FLAT LEATHER OXFORD TAP SHOES
Flat leather oxford tap shoes, or tap shoes with heels of one or more inches high, are worn by more experienced dancers. These shoes are more challenging for the dancer, as more weight is placed on the ball of the foot and toes. Balancing is also more difficult. The same as the other styles we have mentioned, these come in the split sole for more flexibility or full sole. Split soles typically wore by more advanced dancers as these allow for double-tapping and generating more clicks per beat. Female dancers, as with ballet, will wear pointe shoes.
Out-Sole Thickness Can Change The Weight, Durability, And tone.
Tap shoes with a thicker sole further increase your options when selecting the perfect tap shoe. Out-sole thickness can change a tap shoe's weight, durability, and tone. The soles tap shoes are made of thick leather or plastic. The thickness can be increased, by increasing the layer of the material used in the sole. To prevent repeated, re-tightening, longer screws can be used, affix the taps.
HEELS CAN BE ALTERED, FOR SOUND
Heels can be altered to change the sound of tap shoes. Entry-level, tap shoes, are typically made with plastic, which creates a lower quality of sound. If you are a beginner or buying for a beginner, one thing to note is the higher the heel, the more difficult and uncomfortable it will be for the dancer.
3 screws on each plate
Standard tap shoes come with three screws on each plate. These screws can be loosened or tightened to achieve the desired sound. Many dancers prefer the tap plate slightly loose, which means there is a slight rattling noise. You may notice when you purchase a pair.
Best Tap Shoes For Beginners:
Our favourite pair of tap shoes for beginners is the Roch Valley Low Heel Pu Tap Shoes.
They are perfect for both children and adults, provide good comfort, and offer good value. One downside of the Roch Valley Low Heel Pu Tap Shoes is, they do not produce the loudest tap. Either way, they perfect for beginners.
To check the Roch Valley Low Heel Pu Tap Shoes on Amazon, click here!